Posted by Micah Rodrigues on 1 March 2019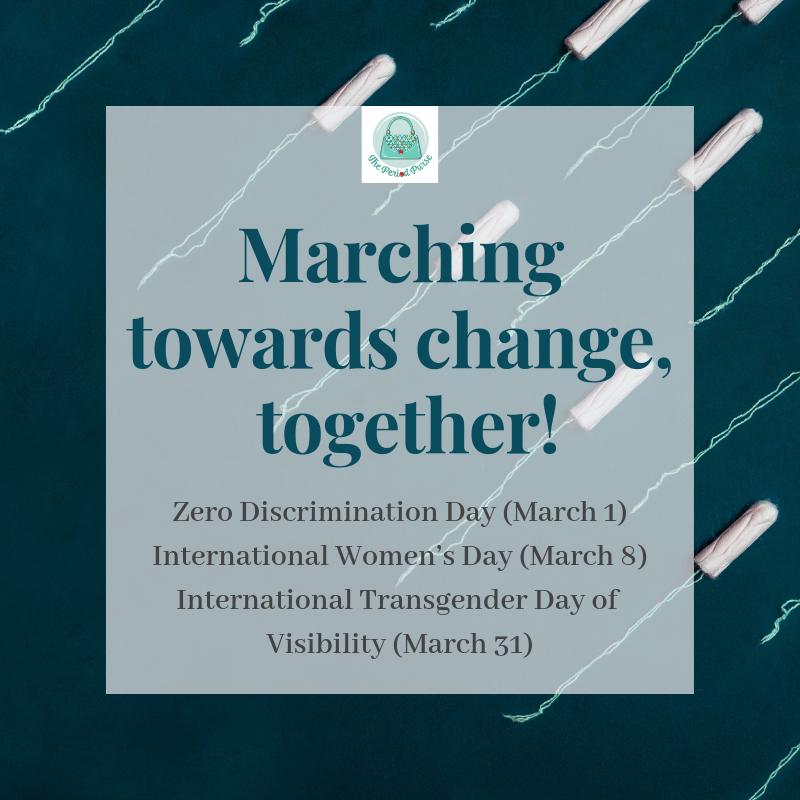 With the warmer, steadier, temperatures hopefully on the horizon, our collective thoughts are turning to spring in anticipation of the refreshing sense of renewal around the corner. As we focus on the possibilities of change and growth ahead, March is the perfect time to also think about and embrace initiatives that put representation and inclusion at the forefront.
Spring brings with it ambition and exploration. And with ambition and exploration, come desires for acquired knowledge and awareness. Leading up to numerous of March's important initiatives, The Period Purse is empowered by the opportunity to share news about three upcoming awareness days: Zero Discrimination Day, International Women's Day and the International Transgender Day of Visibility.
Zero Discrimination Day:
Commemorated worldwide on March 1, Zero Discrimination Day works to promote complete equality before the law and in practice, for all countries that are also members of the United Nations.
Started by UNAIDS, an organization leading the global effort to end AIDS, in February 2014 with a kickoff event in Beijing, CN, and honoured for the first time the following month that year, Zero Discrimination Day is now marked by rallies, effective programming and social media campaigns.
Zero Discrimination Day aims to propel global discussions about all forms of discrimination, as well as possible solutions for countries and companies to enforce, so to better increase positive, inclusive experiences in diverse groups. The 2019 theme for Zero Discrimination Day is Act to Change, a phrase that centres around changing the laws that inherently cause discrimination.
For more information and to join the conversation, follow UNAIDS on Facebook and Twitter.
International Women's Day:
International Women's Day has taken place every year on March 8 since 1911. The initiative recognizes the social, economic, cultural and political achievements of women-identifying people, while also making a call to action to accelerate gender parity and increase gender balance, worldwide.
The 2019 International Women's Day theme is Balance for Better, a phrase that aims to highlight the need for gender balance and gender equity in all environments. A quick search on event hubs like Eventbrite will show just how many opportunities there are to join communities and leaders in sparking change and increasing gender equity this International Women's Day.
Readers are encouraged to host their own International Women's Day event leading up to or on March 8. Review the official event resource and learn more about branded swag and décor. For more, follow the official International Women's Day pages on Facebook and Instagram.
International Transgender Day of Visibility:
Acknowledged annually on March 31, the International Transgender Day of Visibility celebrates the accomplishments and victories of transgender and gender non-conforming people, while also raising critical understanding and providing education about the work still to do, in order to save lives.
Rachel Crandall, head of Transgender Michigan, an advocacy group in the aforementioned American state, realized that there had been no day of "celebration" for the trans and gender non-conforming communities. After first asking, "Why?" Crandall changed their stance to, "Why not me?" and led the inaugural International Transgender Day of Visibility in 2009.
Now championed by youth group Trans Student Educational Resources (TSER), the 2019 celebration theme is Surviving and Thriving.
For more information on how to take part, read the official top ten list and find an event in your city via the TSER Facebook page.
Readers, as you explore the learnings and leadership opportunities that March has to offer, share your Zero Discrimination Day, International Women's Day and International Transgender Day of Visibility experiences with us.
Tag @ThePeriodPurse on Facebook, Instagram and Twitter to share your story and connections to these important advocacy efforts.