Posted by Tait Gamble on 10 September 2020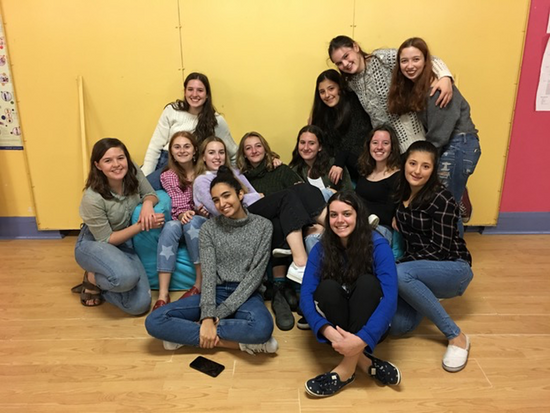 Are you a college or university student passionate about making a difference for people who menstruate in your community? Starting a Menstruation Nation (MN) might be for you. A Menstruation Nation is a spirited and positive group of students and friends that wants to help raise awareness about menstrual equity, challenge period stigma and empower people who menstruate in their community. There has been growing enthusiasm for menstrual equity work amongst post-secondary students in recent years.
While the COVID-19 pandemic has put many things in our lives on pause, the struggle for menstrual equity continues. Post-secondary students are in a unique position to connect with other students and make a big impact on college and university campuses in regards to menstrual equity and menstrual health.
To begin your work with the MN on your campus, think about the methods of engagement you have access to that could help reach the most people. Facebook groups, school forums and simply connecting with your community is a great place to start. The next step is to make it an official club. This process is usually found on your university website. Once you've gathered a community of engaged students, stay connected using social media.
As large gatherings and public events pose a public health risk, generate conversation and reduce stigma surrounding menstruation by hosting virtual "Menstruation Nation Conversations." Just as organizations, workplaces and families have been doing, turn to online video-chatting forums to keep the conversation about menstrual equity going in your community. You might ask participants to register for the online event by making a donation towards The Period Purse. Together, virtually, you can have a conversation about menstrual equity in your community and stay connected. We will give you ideas in our MH Handbook for Universities and Colleges.
While collecting period products is a great way to tackle menstrual equity with your MN, there are many ways people can show their support. Offering online donations may expand your impact, and be more accessible and successful in light of the pandemic. That's why we've created a
Team Fundraising Page
. From here, you can set a target goal and invite your community to donate. Share this page with your MN and on social media.
Beginning a MN on your campus can contribute to menstrual equity by providing marginalized people who menstruate with access to free menstrual products. It can generate greater good, community and connection on your campus as well.
Reach out to our Menstruation Nation coordinator,
Tait
to start your Menstruation Nation today.