Posted by Sarah Niedoba on 3 December 2019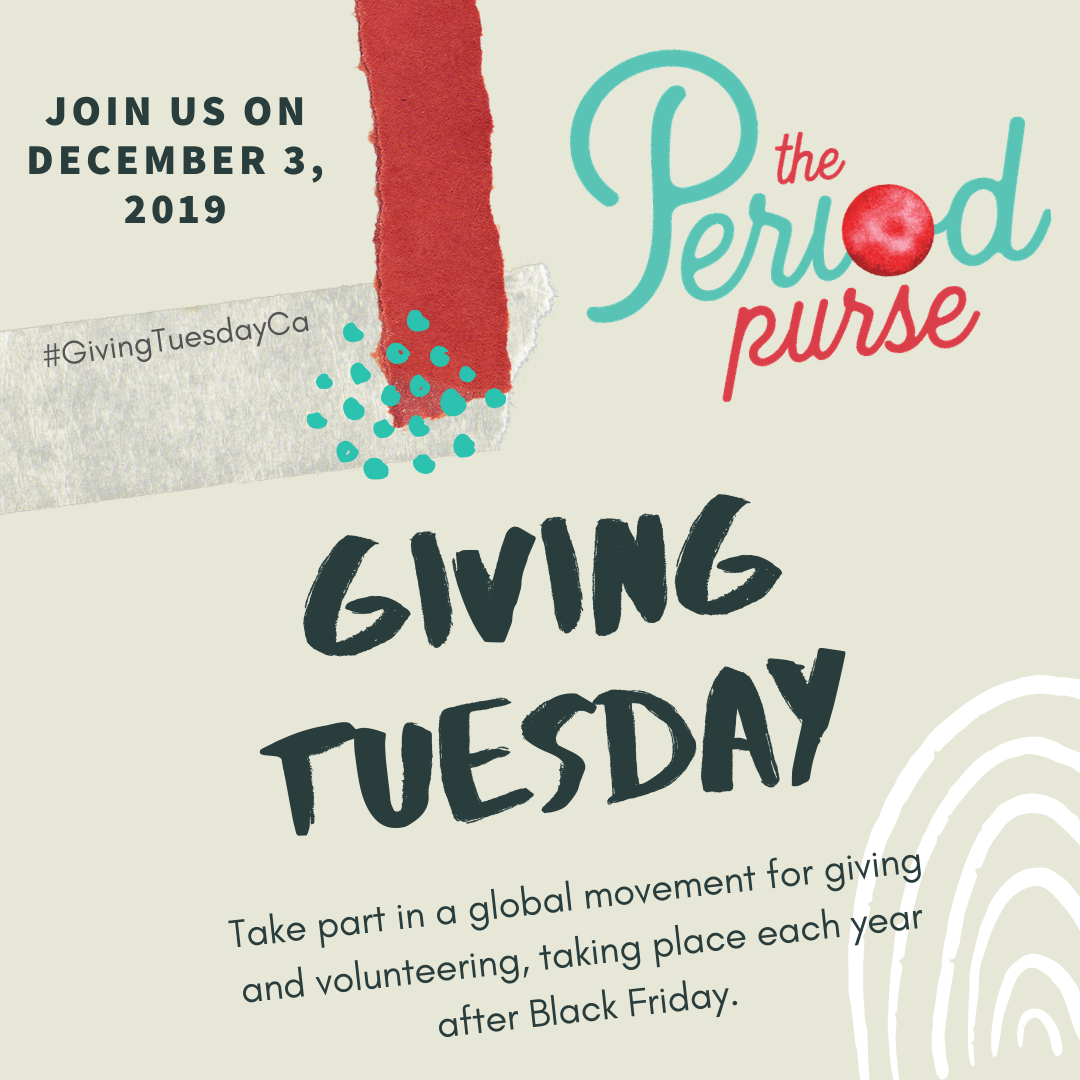 Every year, after scoring last minute deals on Black Friday and Cyber Monday, another holiday asks you to open your wallet one more time but for a very different reason.
Since 2011, Giving Tuesday has been a day for people to come together and support charitable organizations in their community. But with so many worthwhile causes, it can be difficult to decide where to send your donations this season.
That's why we've put together a handy list of reasons to donate to The Period Purse this Tuesday. From bringing the period equity conversation to the House of Commons to packing hundreds of period product kits for those in need, we've accomplished a lot this year and to continue our important work, we need your help.
Read on for the top 10 reasons to donate to The Period Purse this #GivingTuesday.
1. We're the First Registered Menstrual Equity Charity in Canada
This year we made it official we're a registered charity, the first in Canada to fight for menstrual equity. That means reducing stigma, educating the public and providing those who experience homelessness with access to free period products so they can experience periods with dignity.
2. We've Collected Hundreds of Products for Those in Need
Our bi-annual blitzes have collected hundreds of period products to donate to shelters across Canada. This year, teams of volunteers have gathered across Canada to pack much needed supplies and supportive notes for people experiencing homelessness. At just one of our Toronto packing parties, we packed 265 purses and 920 period packs for 19 shelters in the city.
3. And We're Collecting Donations All Year Round
In addition to our bi-annual blitzes, we're always encouraging volunteers to create their own "mini-drives" with their friends, family and coworkers. That means we're helping communities gather and donate supplies all year round.
4. Even Small Donations have A Big Impact
The Period Purse supports 530 people living in Toronto shelters. It costs $15.00 to make one delivery to a community partner, $20.00 for one pair of reusable period underwear and $40.00 for a reusable menstrual cup. Your donation will help us provide these important products for those who need them.
5. We're Pushing for Government Support
With support from The Period Purse, Toronto city councilor Kristyn Wong-Tam successfully passed a motion for the City of Toronto to provide additional funding to community service agencies across the city so they can distribute menstrual products to their clients and beneficiaries.
6. Our Message Made it to The House of Commons
This year, Parkdale-High Park MP Arif Virani spoke about The Period Purse in the House of Commons, bringing national attention to menstrual equity and calling for support from his fellow MPs. It doesn't get much more high profile than that.
7. We're Encouraging Others to #SayTheWordPeriod
This fall, we launched #SayTheWordPeriod with Toronto agency doug&partners, a campaign aimed at increasing positive conversations about menstruation in everyday life. Through creative and funny videos, we're encouraging others to break down the stigma around conversations about periods and menstrual equity.
8. We're Bringing Menstrual Education to the Classroom
Our Menstruation Nation program hosts period presentations in schools across the Toronto District School Board, providing youth, educators and guardians with the resources they need to enforce the importance of period positivity at home and school.
9. We're Spreading the Word About Sustainable Periods
We're committed to collecting and purchasing sustainable period products, including menstrual cups and reusable pads and underwear. While these products aren't the right choice for everyone with a period, we're working to make them available for those who choose to use them and discussing their benefits in schools across Toronto.
10. We're Growing, Canada
We have 16 chapters across Canada and are always open to volunteers who want to start a chapter in their town. The more chapters we have, the more people we can support having healthy, dignified periods each month.
Convinced yet? Donate today and be sure to share the news about The Period Purse this Giving Tuesday to help inspire others to make the change.
Tag @ThePeriodPurse on Facebook, Instagram and Twitter to encourage others to join our community of powerful period advocates today.