Posted by Lunapads on 3 September 2019
With files from Lunapads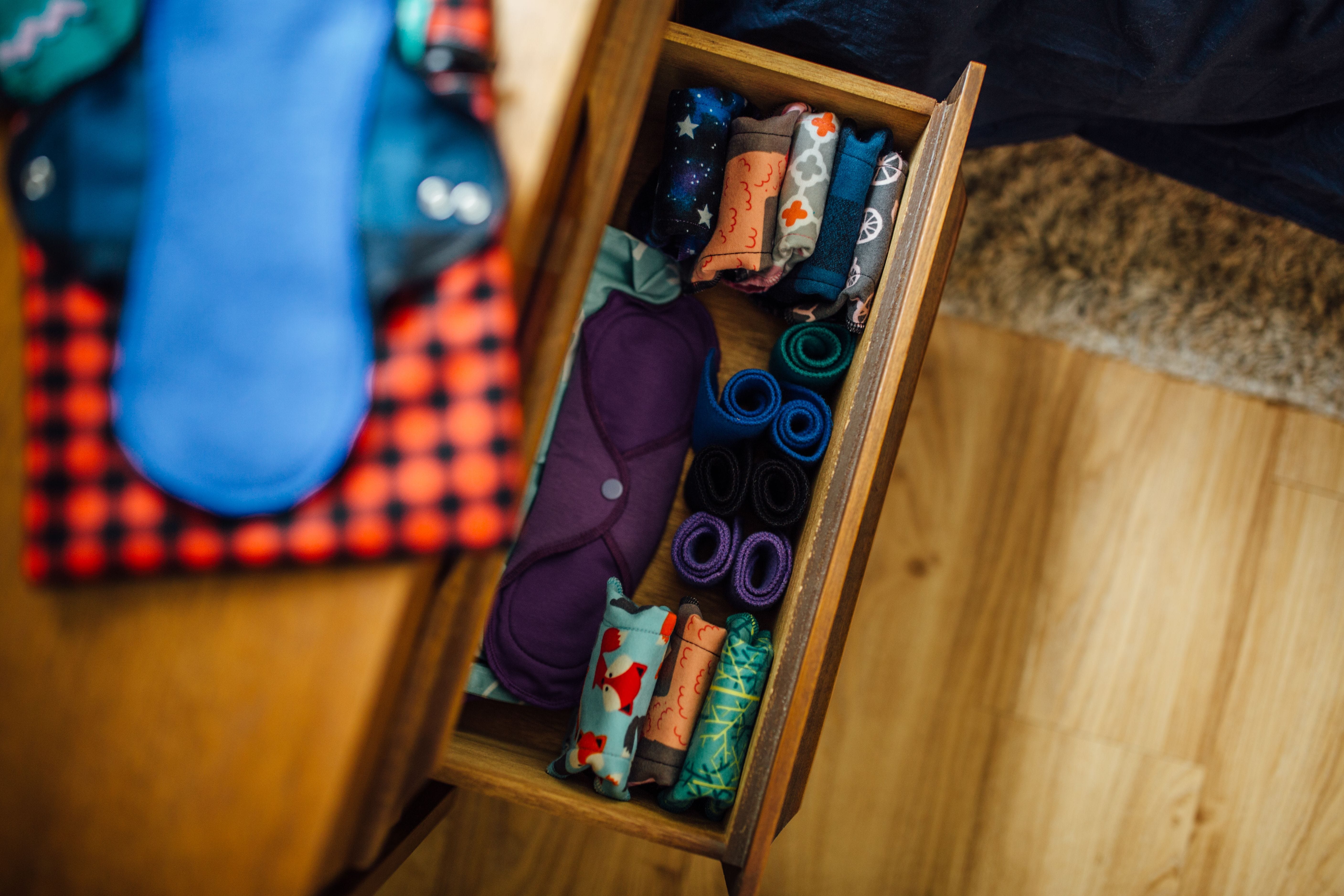 A drawer full of reusable cloth pads. Photo courtesy of Lunapads.
Today, we're talking about sustainable period products and hope to answer some common questions and concerns that may arise when considering a switch from disposable options to something more budget- and eco-friendly.
We first want to acknowledge that the products discussed in this article may not be suitable for your flow or fit. Please note that the information disclosed is not medical advice. If you have concerns about your period, please consult a medical professional.
Let's get started!
Think about the many products you may use during menstruation. Every month, it's likely that you will go through a seemingly endless number of pads and tampons, maybe take an ibuprofen or two, and then resupply. Right? Then, consider what the garbage can looks like at the end of your period. Plastic. Everywhere.
Periods are a fact of life, but the way we manage them can create a lot of waste.
It's estimated that 20 billion pads and tampons are thrown out every year. Pads and tampons are a major source of single-use plastics, including the materials inside tampons, in plastic applicators and in leakproof barriers. All that plastic sticks around.
It will take a conventional disposable pad approximately 500 years to break down in a landfill. This means that every pad and tampon ever used is still in a landfill somewhere. That's trash!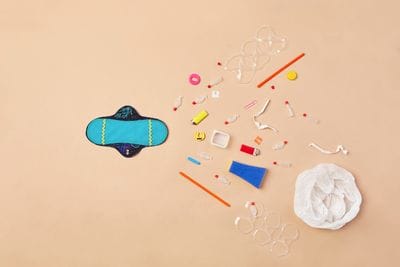 A reusable cloth pad next to waste from single-use plastics. Photo courtesy of Lunapads.
So, how can a person on their period make a more sustainable choice, if the opportunity is available to them?
Our advice: Be an informed consumer and ask for more from your period products. Question what you're putting in and, on your body, and question what you're tossing into the garbage.
It's effective to make more sustainable choices, if the means are available to you. Sustainable period products can often lead to a huge cost savings and a better period for you, as well as securing long-lasting, positive impact for the planet.
As we'll highlight below, there are three major kinds of sustainable period products: sustainable disposables, menstrual cups, reusable pads and period underwear.
1. Sustainable disposables: Not all disposables are created equally. If you love tampons, it's possible to source 100% organic cotton tampons that don't contain any added dyes, fragrances or plastics. Consider going applicator-free or look for tampons with cardboard applicators. Another option is to look for compostable products and try to choose an item that doesn't come in a plastic bag. When your period is done for the month, consider how you can sustainably dispose of your products.
2. Menstrual cups: A menstrual cup is a great, cost-saving solution, especially for a heavy flow. When you're first trying it out, we would recommend doing so in the shower. The website Put A Cup In It is a great resource to help you choose a cup that fits your shape, size and flow. Everyone's body is different, and you need to consider the height of your cervix, your age and lifestyle to find the best menstrual cup fit. It's even possible to trim the stem of your cup to make it more comfortable. Once you've safely and securely entered the menstrual cup, "give it a spin one it's in," to ensure the cup is open and sealed along the vaginal walls.
3. Reusable pads and undies: Finally, a shout out to reusable pads and period underwear! We've seen multiple advances in technology that have led to new wicking and absorbent fabrics that can outperform even your favourite disposables. When picking out one of these reusable products, choose something that fits your body size and check absorbency levels. Look for breathable fabrics and easy and clear care instructions. Try the item out in a safe place first if you're concerned about leaks.
Just as everyone's body is different, so is every period. Feel empowered to mix and match any of the sustainable options discussed in this blog post, in conjunction with the more traditional, disposable options. Use your preferred tampon or pad on your heaviest days and switch to a pair of reusable period underwear for overnight comfort.
If there's one piece of advice you take away from this post, know that choosing more sustainable products can be just as simple as thinking about how to improve your period experience, and the experiences of other people who menstruate.
Before clicking away, share your sustainable period product story on social media and tag @ThePeriodPurse. Don't forget to use #PeriodPositivity.
For more information about sustainable period products, visit https://lunapads.ca.