Volunteering with Ve'ahavta; Delivering Period Purses
Posted by Micah Rodrigues on 2 October 2018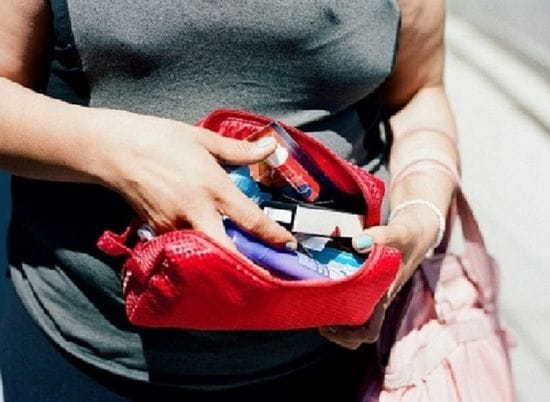 It's a hot Saturday night in July. Friends hop in a van and head downtown. They are excited, energized and enthusiastic. What seems like girls' night out is actually a volunteer mission. This is no party vehicle - it's an outreach van run by an organization called Ve'ahavta. The group will not be dancing the night away, but will instead hand out food, hygiene items, clothing, water, and period purses to impoverished and marginalized communities in Toronto.

The van goes out six nights a week and Keren Troyna, one of the resident outreach workers with Ve'ahavta, rides in the van for half of those nights. She is bright, funny, empathetic, strong and friendly. She knows the clients and calls them to let them know she is on the way. Some of the clients are regulars, who are serviced by the van, and others find the vehicle as it drives by. These nights are always equal parts heartbreaking and rewarding, but this particular night would become magical.

Elisha Chesler, The Period Purse's Volunteer Coordinator, rides in the van almost every month. She too knows the clients and is a warm soul practiced at spotting those who might need the van's services. On this particular evening, Elisha sees a woman sitting outside The Toronto Reference Library. Her head is down and her face is hidden with her knees hugged into her chest. There is a small bag of possessions at her feet. Keren pulls up and initiates contact, offering her food, coffee, and water. The woman is alone, there is a cut on her cheek and her demeanor is one of exhaustion and utter sadness. Once the coffee, food, and water are handed out, the group gives her a purse. It's like someone had turned on a light in the absolute dark. The woman lights up, claps her hands and exclaims in glee, a megawatt smile breaking out.

At this moment, there is joy. It's a beautiful thing to witness. Magical, even. The group stays with the woman a little longer as she examines the purse and its contents, together experiencing gratitude.

Through the efforts of Jana Girdauskas, founder, and everyone involved in the organization, The Period Purse has given volunteers the opportunity to hand out happiness and relief to marginalized and impoverished menstruators. The purses provide a sliver of light in what is often a dark and lonely existence; for a time allowing those who receive them to feel hope.

After distribution, the group shuffles back in the van, each uniquely influenced. The woman who moments earlier had been curled up hiding from the world, shares a smile and waves as they drive away.
If you are interested in volunteering with Ve'ahavta, please email our Volunteer Coordinator.
Author:Micah Rodrigues