Posted by Sarah Niedoba on 25 May 2020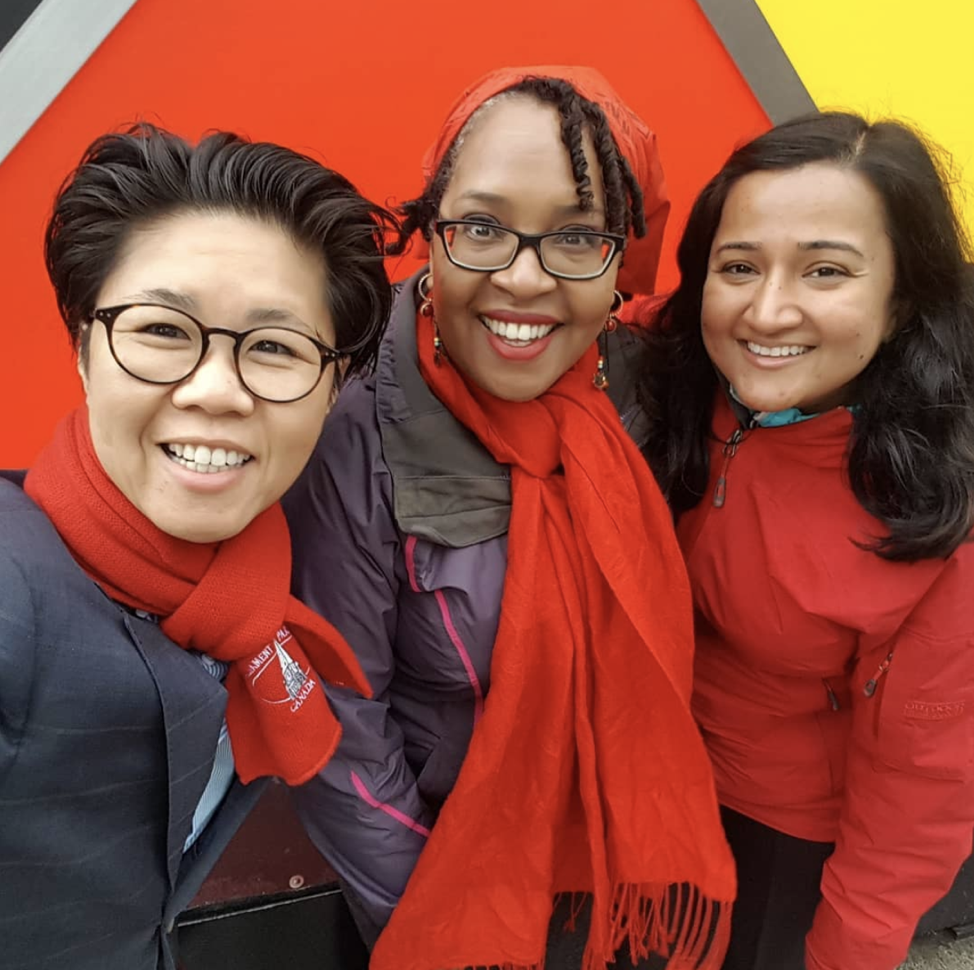 Toronto city councillor Kristyn Wong-Tam and friends marking Menstrual Hygiene Day 2019 on Instagram.
If you live in Toronto, you know that progressive city councillor Kristyn Wong-Tam has long been a supporter of menstrual equity.
Last spring, she successfully campaigned to increase Toronto's shelter budget to include menstrual products in shelters and drop-ins across Toronto.
She is keenly aware of the difficulty of trying to afford expensive period products while living in poverty or experiencing homelesssness.
Now, she's deeply concerned about the well-being of those experiencing homelessness during COVID-19, what she calls a "crisis within a crisis."
"Those experiencing homelessness don't have adequate access to sanitation, because there aren't enough publicly accessible washrooms," she says.
If finding bathrooms and period products was difficult before COVID-19, it can feel nearly impossible now that so many spaces are closed.
"What we know is that bathroom facilities are generally hard to come by when you are away from home," she says. "Those who have no home are reliant on businesses and public spaces, but those facilities are now closed. All those individuals who have relied on this patchwork of facilities are now left without."
As the crisis evolves, Wong-Tam says elected officials aren't looking at the problem with a gendered lens.
"I have yet to hear any elected official speak about menstrual equity at this time," she says.
She believes that building infrastructure that includes free period products is the only way to ensure access to everyone that needs them.
"We're not charging for toilet paper or hand soap," she says. "People should have access to these products."
That's why the successful campaign to include period products in Toronto shelters gives her hope. That, and the Toronto District School Board's decision to include products in school bathrooms.
"It gives me hope that we are talking about menstruation and how it affects people in poverty, because that wasn't the case even three or four years ago," she says.
She wants to continue having that conversation, to spread the message that periods are healthy and natural, and that we need to support the half of the population that has them.
"The conversation is about how to standardize bathrooms across the country so that if you are operating a bathroom it's standard practice: hand soap, toilet paper, and menstrual products," she says.
If you believe in menstrual equity, celebrate and amplify Menstrual Hygiene Day on May 28. Tell your friends and family on social media and through word of mouth!
Did you know that this year, the city of Toronto will officially recognize Menstrual Hygiene Day for the third year in a row? The goal is to build awareness about the fundamental role good menstrual hygiene management plays in the lives of women and girls, especially considering challenges related to poverty.
Be part of the solution by becoming a regular donor to The Period Purse.
If you already donate, thank you! Another way to support us is to forward this to a friend who will appreciate the opportunity to contribute to this important and growing global movement.