Help Bring Period Products to Toronto's Marginalized Menstruators with The Period Purse's Fall Blitz
Posted by Sarah Niedoba on 10 October 2019
With fall finally here and the weather slowly getting cooler, you may be wondering what you can do to help Toronto's marginalized communities.
It can be an overwhelming question. With so many valuable organizations and causes seeking your donations and support, where do you start?
Often, these conversations can exclude some of the city's most vulnerable members of our community who don't have access to the products they need to experience healthy periods.
What if we could deliver hundreds of products to those who needed them most?
That's exactly what The Period Purse's annual Fall Blitz aims to do.
700 Healthy Periods
What is the Fall Blitz? Every October, The Period Purse encourages community members to drop off bags and purses full of period products and wellness items to designated locations across the city. Once all the donations have been collected, we hold packing parties to sort, package and deliver the products to people who menstruate who may be in need.
These period packs are full of menstrual products, cloth pads, wash cloths, new socks and underwear, bar soap, hats, mitts, scarves and treats like chocolate and granola bars. They're delivered across the city, and each contains its own unique motivational note.
Last fall, we packaged an astonishing 700 purses and bags. That's 700 people who were able to experience healthy periods, thanks to the hard work and dedication of people just like you.
How You Can Help
In 2019, The Period Purse's Toronto Chapters will hold their Fall Blitz programs from October 7 to 28, with packing parties happening on November 9 in Toronto West and November 16 in Toronto East. That's three weeks dedicated to getting the right products to the right people!
This is what it will look like: For three weeks, local businesses across the city will be home to donation bins that will fill up with much-needed products. Then, volunteers will come together to pack: filling bags and purses for delivery to the city's shelters and centres.
Many groups and organizations choose to work together to make the biggest impact possible. Schools and for-profit companies can run donation collections in their place of work or study, while engagement parties, baby showers and birthdays are the perfect opportunities to ask for product donations in lieu of gifts.
Thinking of hosting an event in the coming month? Consider accepting period products instead of tickets. However you decide to contribute, you'll be joining an enthusiastic group of volunteers who know their work is helping Torontonians experience healthy, dignified periods.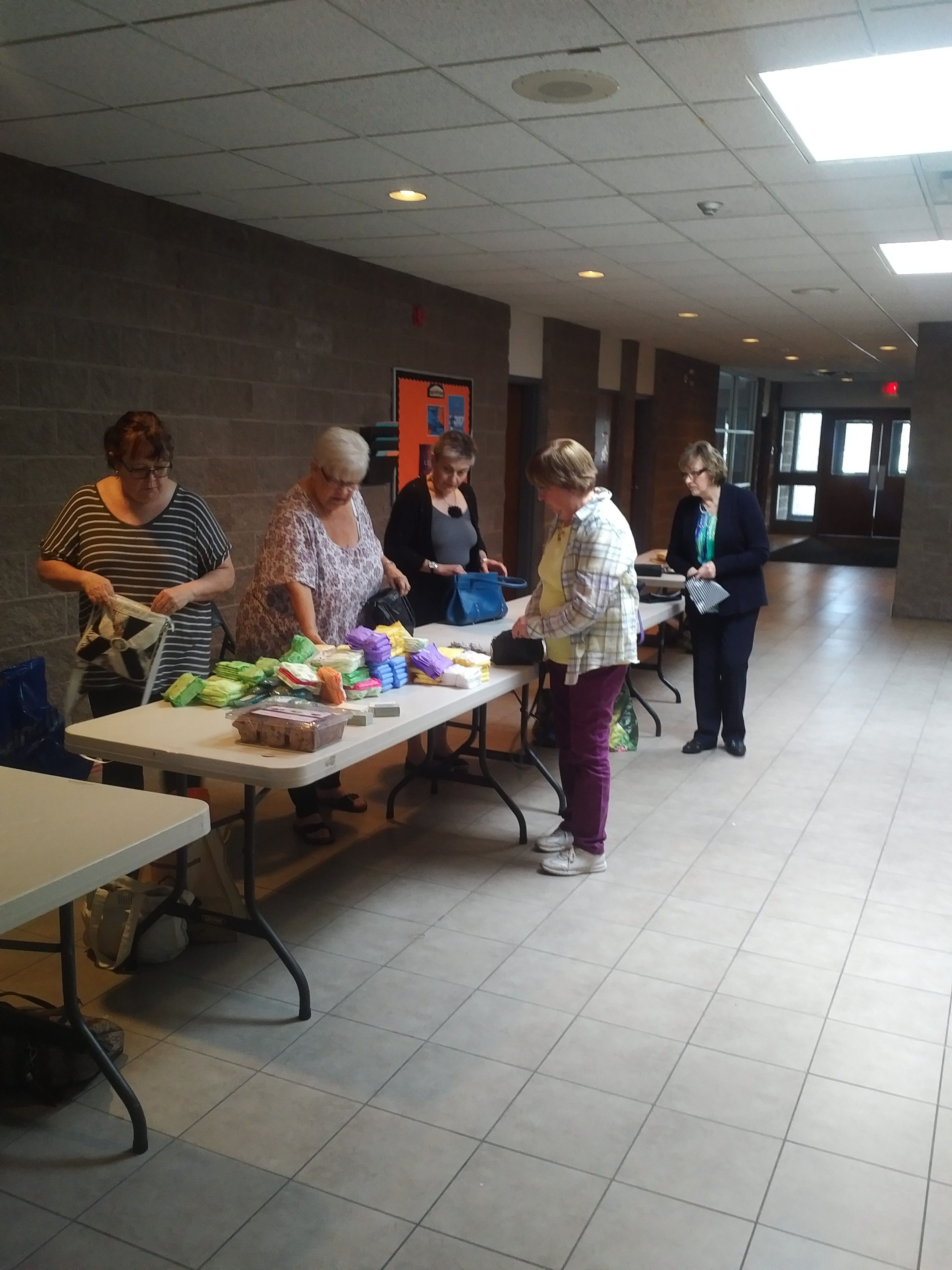 Make A Commitment to Menstrual Equity
The Fall Blitz works best when groups of dedicated volunteers come together to make it happen. While it can be a challenge to balance busy lives and full-time commitments, it is one of the most rewarding experiences you could have this fall.
Even if you've never volunteered for or donated to a Blitz before, it's never too late to start. Talk to your friends and family today about how you can all be a part of this important event.

Drop Off Locations and Hours*
Toronto West (October 7 to 28)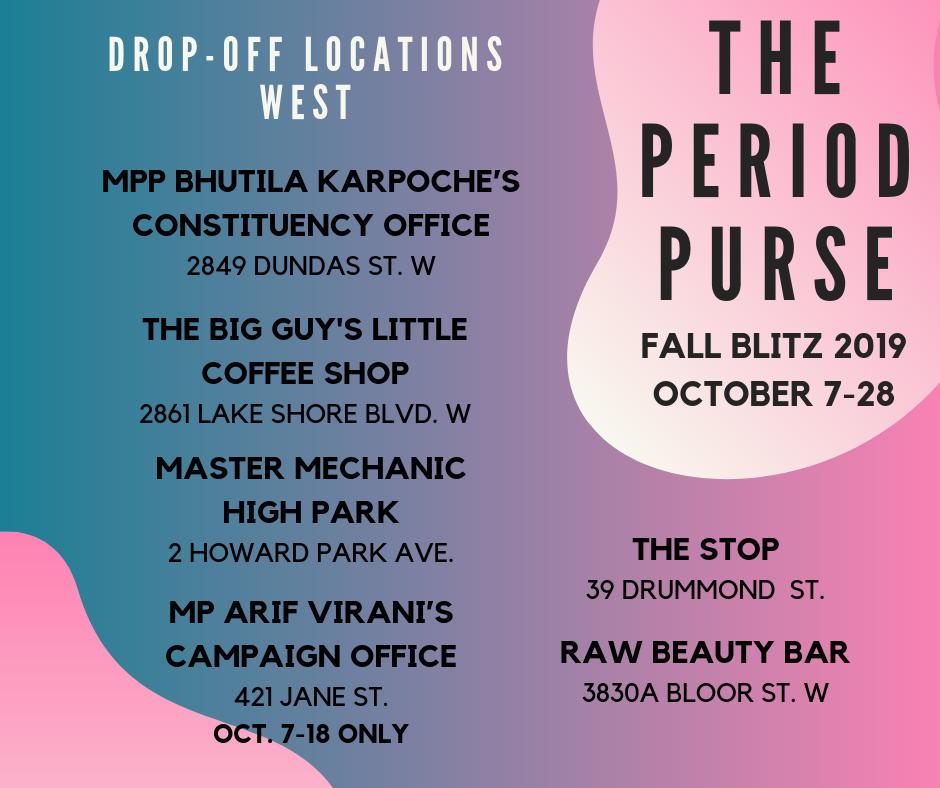 Toronto East (October 7 to 25)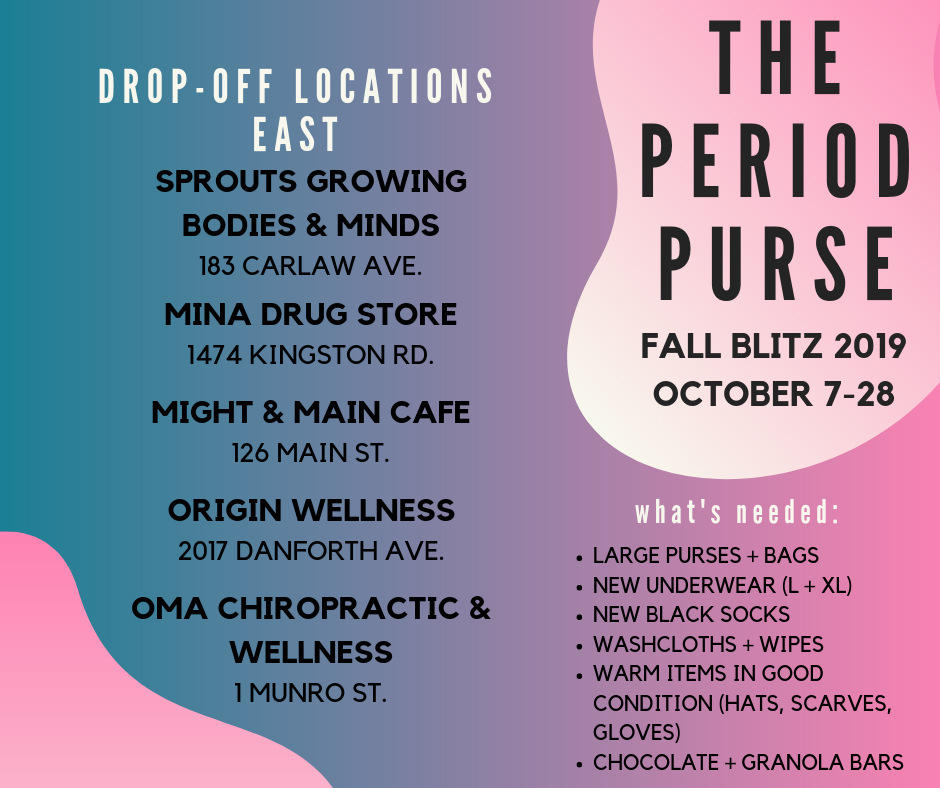 Downtown Core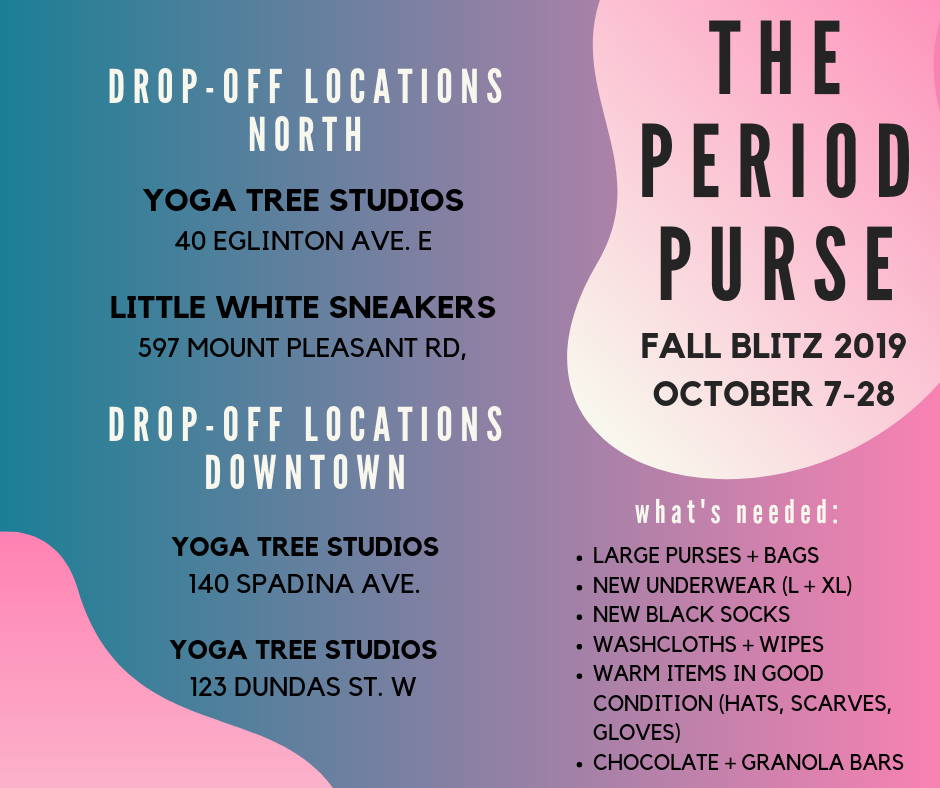 Location
Address
Hours
The Yoga Tree
123 Dundas St W

Mon to Fri: 11am-9:15pm

Sat and Sun: 9am-6:15pm

The Yoga Tree
140 Spadina Ave

Mon and Wed: 11:15am-2:45pm

Tues and Thurs: 10:30am-2:45om; 4-9:30pm

Fri: 11am-2:45pm; 4-8:45pm

Sat: 8:30am-4:45pm

Sun: 8:15am-5pm

Toronto North
Location
Address
Hours
Little White Sneakers
597 Mount Pleasant Rd

Mon to Sat: 10am-6pm

Sun: 11am-5pm

The Yoga Tree
40 Eglinton Ave East, Suite 800 - 8th floor

Mon: 9:30am-2pm and 4:15-9:30pm

Tues and Thurs: 9:30am-2pm and 4-9:15pm

Wed and Fri: 9:30am-2pm and 4-7:30pm

Sat: 9am-2:30pm

Sun: 9am-3pm
*Dates, times and locations are subject to change.
Author:Sarah Niedoba