Lessons from the Ve'ahavta Van: How equal access to hygiene products is indeed a homelessness reduction tactic
Posted by Elisha Chesler on 7 April 2019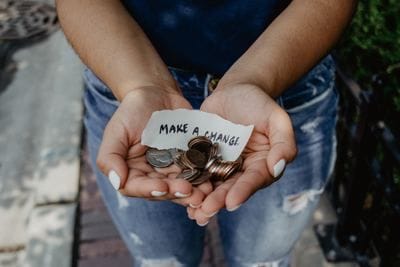 Photo by Kat Yukawa on Unsplash
When we think of people experiencing homelessness and the challenges they face, the most pressing concerns that come to mind are often around basic human needs: Where does someone sleep? How does a person access food? How do they keep warm?
Through The Period Purse's relationship with Ve'ahavta's Mobile Jewish Response to Homelessness (MJRH) Van, I've developed a greater understanding of the challenges that marginalized women and trans folks face.
On evenings in the Ve'ahavta van, other volunteers, a social worker and I embark on a journey through Toronto to hand out food, coffee, clothing and company to individuals living in poverty. It is on these shifts that the challenges of gender-based oppression become more evident.
Cis women, gender non-conforming people and trans people who experience homelessness are often at a higher risk of having faced abuse, mistreatment and trauma. In my work with Ve'ahavta, for example, I've noticed there have been a surplus of shifts where women requesting resources from the van often prefer to receive support from volunteers who are also women. Connecting with someone of a similar identity may reassure the person they are in a safe place, where they can positively and easily access the hygiene products they need, without risk or harm.
People experiencing homelessness are likely to also face the same stigmas and pressures that many of us experience in day-to-day life. These issues are further amplified, however, on the margins.
Many marginalized menstruators may feel shame around their periods, and this could stem from not having the means to experience a healthy and dignified menstrual cycle, as defined by them. They may also be nervous to ask for help and access to products, made available through The Period Purse and Ve'ahavta.
With that said, however, the purses and packs curated and donated by The Period Purse are especially helpful when someone accessing the van feels shy or uncomfortable requesting the menstrual items they need. The Period Purse will give these menstruators a discreet bag, full of items that will ensure their next period is cleaner, healthier and more positive. And the folks we meet on Ve'ahavta rides always express joy when they receive their purse, a new item they can all their own.
I've also learned that women experiencing homelessness may feel intense pressure to look or dress a certain way. The women we meet on the van are often apologizing for their appearance, apprehensive about making human connection and worried they are not presentable enough for a conversation.
I now often think about how our expectations around what women should look like further stigmatize those experiencing homelessness, something I hadn't considered before my volunteer experiences with The Period Purse and Ve'ahavta.
As we continue to think about the complexities of poverty and homelessness, and as we work towards possible solutions, we have to remember the unique needs that marginalized menstruators have and the specific challenges that they face. A "one size fits all" solution to reducing poverty doesn't cut it.
People of marginalized genders who are experiencing homelessness need a more specialized support strategy in order to overcome the obstacles keeping them in poverty. They need personalized connections and equal access to resources, as these positive experiences will not only improve health and wellness, but also lead to developed self-confidence and self-acceptance.
Committed to supporting long-term advancements, I am thankful that organizations like The Period Purse and Ve'ahavta are available to provide direct, unique support to those who need it the most. I'm also humbled by the opportunities I've had to widen my perspective on homelessness and am empowered to share my lessons through this platform.
Readers, if you are interested in supporting the cause, please donate today and sign up to volunteer. If you have questions about how to join an upcoming Ve'ahavta ride, select "Ve'ahavta Saturday Night Outreach," in our volunteer sign up form.
Author:Elisha Chesler