Join The Period Purse for our Toronto Spring Blitz, from April 5 to April 26, 2019
Posted by Micah Rodrigues on 23 March 2019
The windows are down; the sun is shining; the music is blaring; and the dark grey SUV is cruising around the city of Toronto. Is it a best friends' day out? Some pals going for a beer? A family spending quality time? It could be, but the car is packed to the brim with tampons, pads and wellness kits destined for shelters around the community.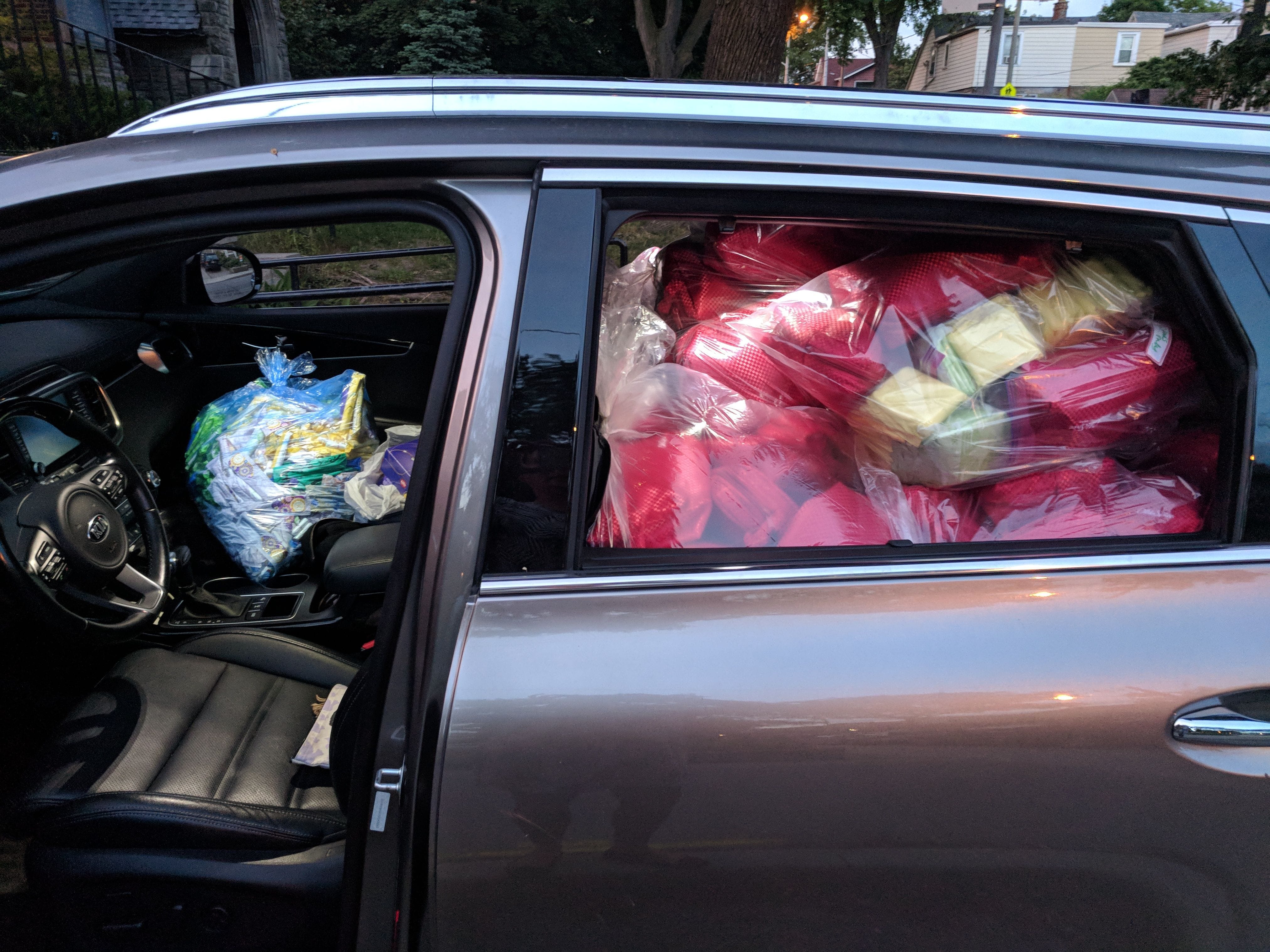 Photo Credit: Micah Rodrigues
A car full of period packs ready for delivery.

This is the aftermath of a Blitz!
The Period Purse hosts bi-annual Blitzes every year, which means each spring and fall, we put out a call to action to all menstrual health and equity advocates, encouraging them to drop off bags, purses, menstrual products and other wellness items to a range of locations in their neighbourhood. At the end of the collection period, we gather for a packing party, where we sort, pack and then deliver the donations, purses and refill packs to impoverished menstruators.
It's no doubt that a Blitz is a large undertaking, routinely lead by a group of volunteers with other full-time commitments, but it's also one of the most rewarding experiences of being a core supporter.
The sheer generosity we witness is overwhelming! For example, the bins at our Toronto West and East locations fill up daily, and over 60 volunteers attend our Saturday night packing parties, stuffing take-away packs and purses for menstruators experiencing homelessness.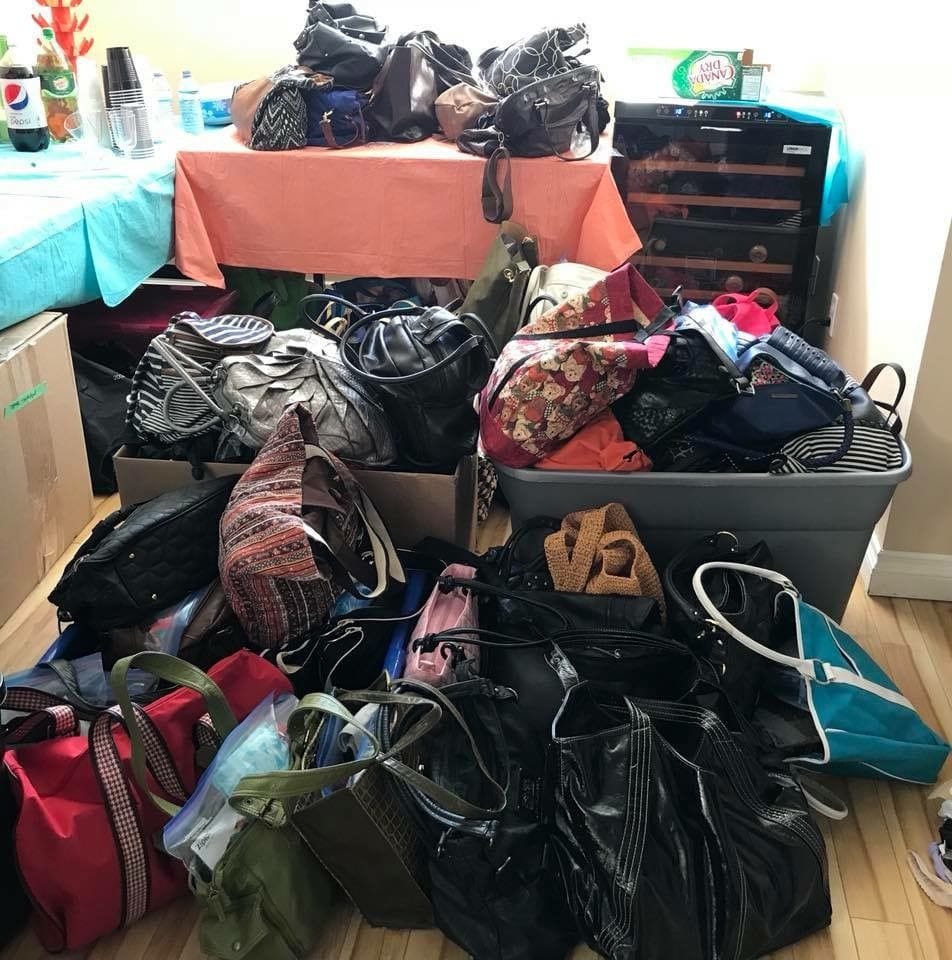 Photo Credit: Megan Scott
Dozens of period purses that will be given to marginalized menstruators.
Over the last two years, schools and for-profit companies have rallied their groups to collect products; engaged couples and parents-to-be request donations in lieu of gifts; and venues host tampon/pad admission nights, like Tampon Tuesday, where a period product serves as a guest's ticket. Plus, I mustn't forget the drivers who come from all over to help distribute the donations and packs we cultivate.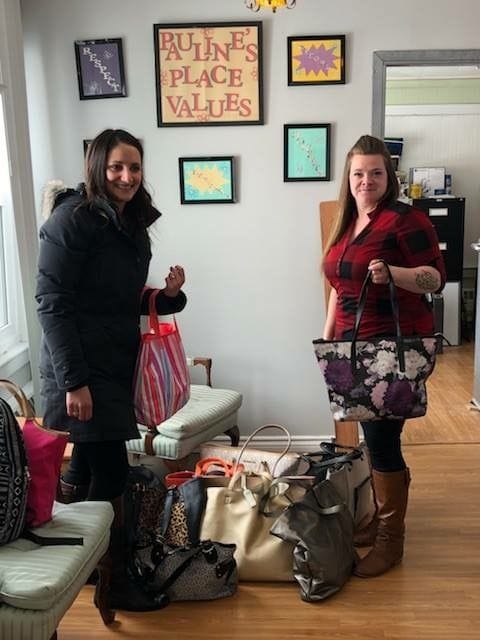 Photo Credit: Megan Scott
Two volunteers pose with the purses ready for donation.

During The Period Purse's 2018 Fall Blitz across Toronto, we packed over 700 purses and bags. As a direct result of our combined efforts, 700 marginalized menstruators in Canada's most diverse city were able to experience dignified, healthy periods, as defined by them. This means 700 women, trans men and non-binary folks were given equal access to period products. This means that people experiencing homelessness were shown they are worthy of care, support, wellness and health.
From an education perspective, Blitzes mean that over 60 people learn about period poverty, why it is an issue and how they can help.
Blitzes also give volunteers of every age, gender and background the opportunity to acquire knowledge, and share that knowledge with the diverse folks around them. It means that the kids and young adults who participate have become the next generation of period positive activists.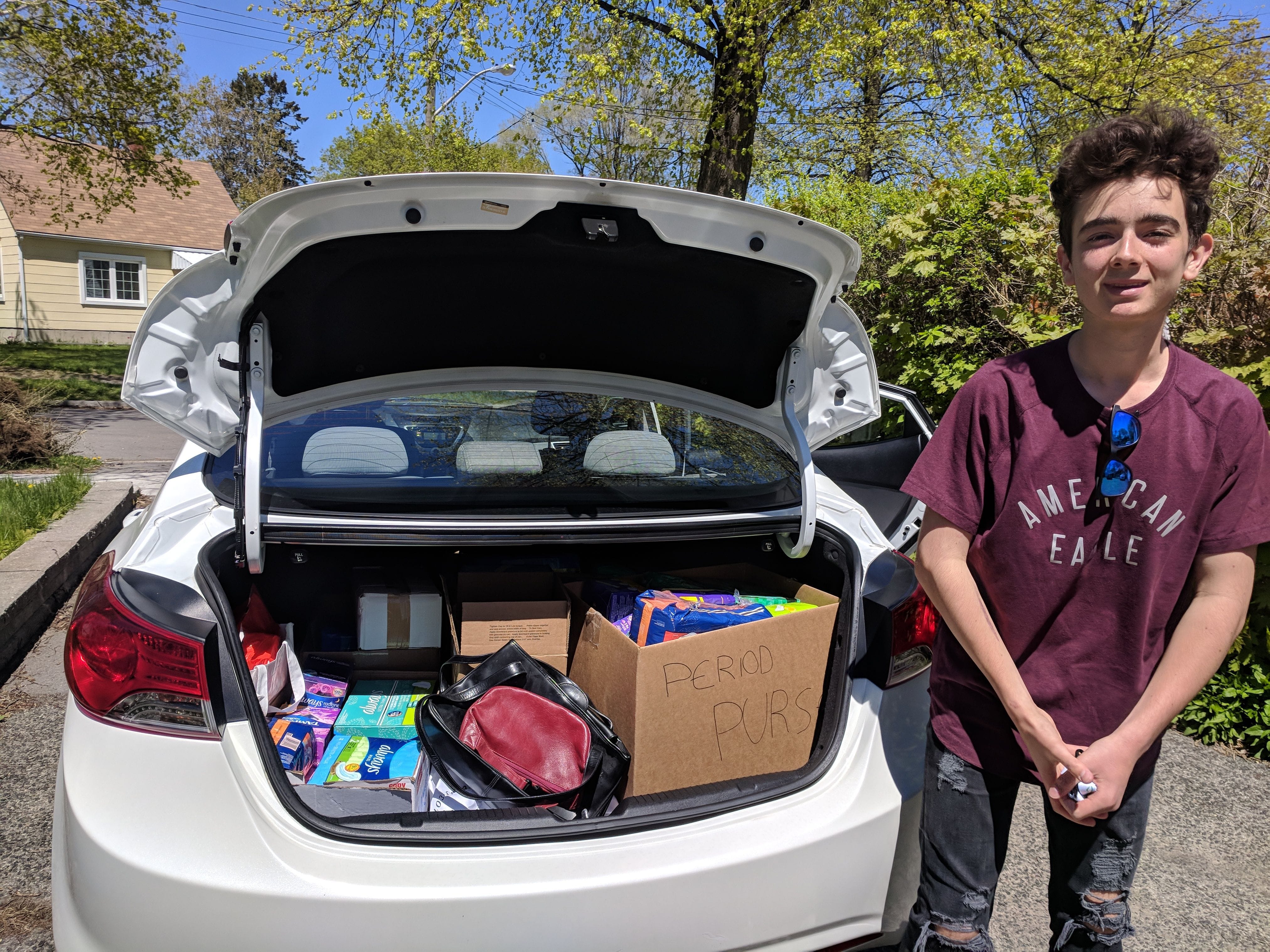 Photo Credit: Micah Rodrigues
A young volunteer with a trunk of supplies for The Period Purse.
Throughout the Toronto Spring Blitz, which runs from April 5 to 26, 2019, The Period Purse is collecting the following items:
Tampons, pads and menstrual cups
Cloth pads and washcloths
Large purses, bags, totes and backpacks
New socks and underwear
Bar soap
Hats, scarves and gloves
Chocolate and granola bars
Drop-off locations in Toronto East are:
Mina Drug Store, 1474 Kingston Rd.
Sprouts Kids,183 Carlaw Ave.
Origin Wellness, 2017 Danforth Ave.
Oma Chiropractic & Wellness, 1 Munro St.
Might & Main Cafe, 126 Main St.
Drop-off locations in Toronto West are:
Working Ensemble, 128 Lansdowne Ave.
The Big Guy's Little Coffee Shop, 2861 Lakeshore Blvd. W.
Arif Virani's Constituency Office, MP for Parkdale - High Park, 1596 Bloor St. W.
More locations will be identified soon!
Please follow us on Facebook, Instagram and Twitter for more information, as it becomes available.
For additional details, please visit our Toronto East and Toronto West pages via ThePeriodPurse.com.
Should questions arise or if you'd like to support in a greater capacity, please reach out to me directly at micah@theperiodpurse.com.
Author:Micah Rodrigues