Bloody Great Run - How to be a Team Captain
Posted by Jannie Nheng on 2 April 2022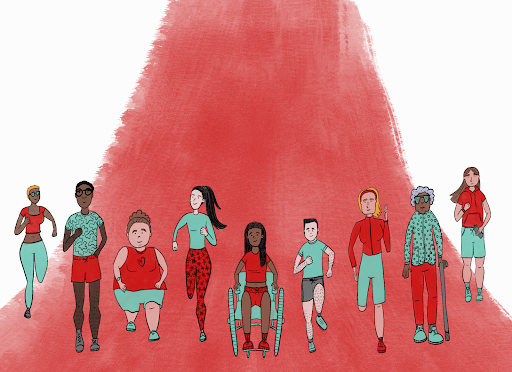 An interview of Caitlin McKay by Jannie Nheng
Blood Great Run (GRB) is our annual May fundraiser to honour Menstrual Health Day (MH Day on May 28th). It is an event for like minded individuals to raise funds for The Period Purse. Caitlin McKay had this great fundraising idea to raise awareness of menstrual health. Here is what she has to say as a team captain:
"The Bloody Great Run is a way for people to collectively do something that is tangible, actionable, and impactful because organizations need funds. It is a way to raise awareness about a cause that you are excited about! You function in teams to achieve the collective goal to "move" 28 km OR 28 hours over 28 days to raise $2,800(in case you haven't noticed MH Day is on May 28th). Right now, we all need to connect with people and feel team spirit. People are starting to look outside of themselves and seek ways to do something good for someone else."
Fundraisers can be challenging in different ways so how do you keep your team motivated? How do you talk about periods with your peers?
Caitlin coaches her team to overcome uncomfortable conversations of asking friends and family for support. Peers can rally for the cause in various ways, whether it be through financial donations or sharing via social media! It is all about getting out of your comfort zone.
Talk to your peers about periods, reduce the stigma. Take action, create a Bloody Great Run team. Ready to get started?
Check out our page on how to host your own Bloody Great Run
Build your team

Create your fundraising page

Share your message

Spread the news: tell everyone about your fundraiser

MOVE 28km or 28 hours!
Author:Jannie Nheng