A Team-Building Experience for a Worthy Cause
Posted by Jana Girdauskas on 2 June 2023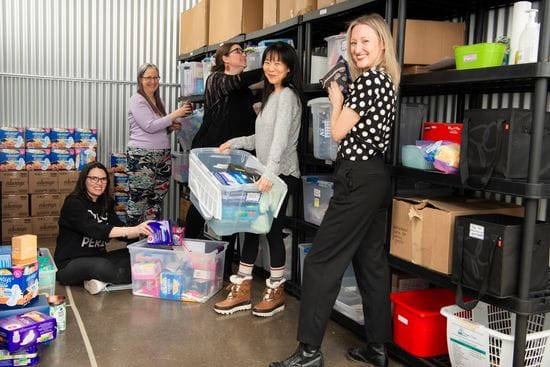 Are you looking for a unique and impactful team-building experience that will not only bring your corporate team, book club, group of friends & family closer but also contribute to a vital social cause? Look no further! We invite you and your team to join us for an educational and engaging two-hour session at our storage facility in Etobicoke, where we tackle the issue of period poverty and work towards menstrual equity. By participating in this event, you will gain valuable insights into an important social issue and also actively contribute to making a difference in your community.
Join our Employee Engagement Packing Party
Together, you will count, sort, and pack donated materials, preparing them for distribution to local menstruators in need. By engaging in these practical tasks, you will experience the fulfillment that comes from actively making a difference in the lives of others.
During the two-hour session, you will be introduced to the concept of menstrual equity, which goes beyond simply providing products but also aims to ensure that everyone has access to safe, affordable, and appropriate menstrual care. As your team packs period packs, we will shed light on the scope of period poverty, its impact on individuals and communities, and the importance of our mission.
The cost of this team-building experience is $400* (price set to increase Fall 2023), with all fees directly contributing to our mission. Join us on a journey to support menstrual equity and create positive social impact.
*fee goes directly towards our mission and you'll receive a charitable tax receipt.
Author:
Jana Girdauskas
About: When she is not talking about periods, Jana is also a teacher who works in special education. She is a mother of two and lives with her family in Toronto's west end.
Connect via:
LinkedIn