The Menstruation Nation Expands: Diva Cup Programs and Period Presentations
Posted by Tait Gamble on 29 June 2019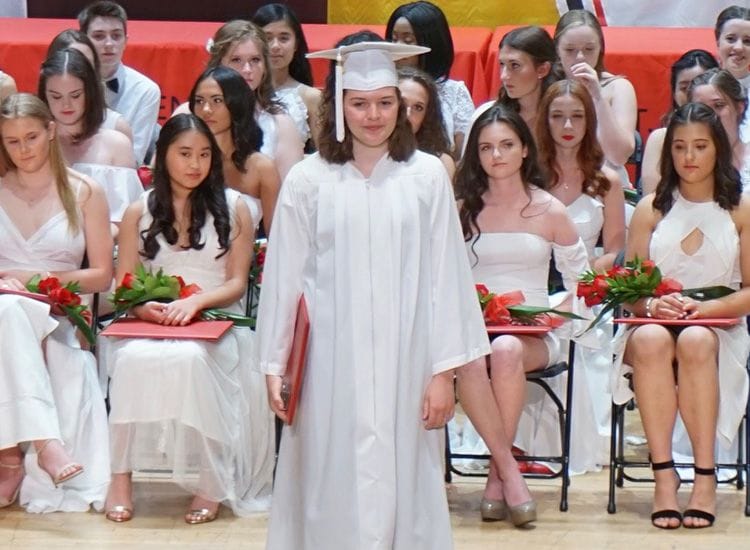 Tait Gamble at her high school graduation.
When I finished grade 12, I was worried that the enthusiasm and passion for menstrual equity we built up in my graduating year would waver when I left. In the past, some successful student-led fundraisers and initiatives had been popular one-offs. I couldn't imagine the same thing happening to the Menstruation Nation. But what if the student leaders became overwhelmed? What if the general student population didn't have the same initial passion? What if the problem seemed "solved"?
When I attended The Period Purse's East End packing party in Toronto this spring, I was excited to see many current students from my high school also there. With them, they brought bins and bins of products that had been donated by community members in a recent drive. A few alumni were there too. We sorted and packed alongside one another, catching up over piles of tampons and pads about the past year.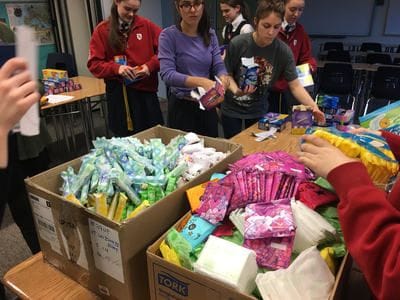 The Period Purse volunteers prepare supplies for a packing party.
After I graduated, the Menstruation Nation continued to gather an incredible amount of donations. Middle school students led an assembly on periods, and the conversations about menstruation in school were more frequent and open. When I went back to visit my high school, I spoke to the teacher advisor for the Menstruation Nation and learned that there had been a serious expansion of the group's work through the Diva Cup program.
Our goal was and remains simple safe and healthy periods for menstruators and open and healthy conversations about periods in schools. Our work has just begun.
For as long as these issues surrounding menstruation persist stigma, inequity, poverty, on a local, national and global scale the Menstruation Nation will be here, working hard to make a difference.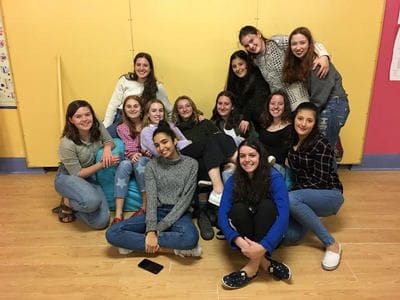 Tait Gamble and a group of Menstruation Nation members.
This journey has proved to me something I always believed: that once you learn about menstrual equity, it's not something you can forget about. The more you consider it, the more driven you become to do something about it.
Progress requires having even bigger conversations about period health, menstrual equity and, sometimes, uncomfortable and challenging conversations about one's privilege and unconscious bias.
Some student leaders have also shared with me that it can be initially uncomfortable for students of all genders to have open conversations about period health. Despite challenges, all agree that the whole community is better for it. Many of the young people and teachers I've had the pleasure of working with demonstrate curiosity, passion and a commitment to making a difference.
The Menstruation Nation continues to grow and influence other period-positive activists. I recently spoke with a student from a high school in the Greater Toronto Area (GTA) who had been researching menstrual equity for an independent passion project. Others have collected products and raised money to support menstruators in their community. I spoke with a post-secondary student interested in beginning a chapter at her college. She had questions about sustainable periods the very work the Diva Cup program is working to support.
In early 2019, the Menstruation Nation program expanded to include education outreach in schools. Our trained Menstruation Nation Educators give 45-minute presentations on reusable period products, period poverty and general menstruation information at public and independent schools across the GTA. One of our Menstruation Nation Educators is featured in the video below on frequently asked questions about reusable menstrual products.
Though the Menstruation Nation is a school program, the impacts extend beyond school walls. Students are helping other students learn, educating their families and helping menstruators in their local communities feel safer and healthier.
We are having conversations about sustainable periods, alternative products and privilege. We'll keep talking, questioning and brainstorming until we reach our goal of safe, healthy periods for menstruators and open conversations about menstrual health in schools. Join the conversation by starting a Menstruation Nation program or having a Menstruation Nation Educator give one of our period presentations at your school.
For more information, email me at tait@theperiodpurse.com.
Author:Tait Gamble